Exploring Cross Section and Surface of Revolution Intuitively
Math Teachers:
In this resource, we'll learn how to use GeoGebra's Freehand Shape tool
to quickly sketch (to the best of our ability) a cross section of the pottery bowl shown below. We'll then spin this sketch fully about the xAxis to create a 3D surface of revolution. After this, we'll open this construction within GeoGebra 3D app on our phones and explore our construction (both cross section AND surface) in Augmented Reality.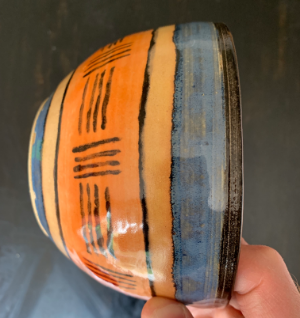 HOW TO DO IT (in less than 12 minutes)
Here is what the graph in the video looks like.
TO EXPLORE THE RESOURCE ABOVE IN AUGMENTED REALITY:
1) Open up GeoGebra 3D app on your device. 2) Press on the 3 horizontal bars (upper left). Select OPEN or SEARCH. 3) In the search bar, type aavgbgnt Note these characters are the last 8 characters in the URL to this resource. 4) Get the cross section and bowl in a good view (zoom out if you need to). 5) Press the AR button (lower right) and go from there!